Pour ceux qui voudraient prioriser leurs prochains achats, les premières listes de sets LEGO « End of Life 2021 » qui doivent théoriquement sortir du catalogue en fin d'année commencent à circuler. Avec quelques surprises qui vont visiblement prendre leur retraite plus tôt que ce qu'on pouvait imaginer.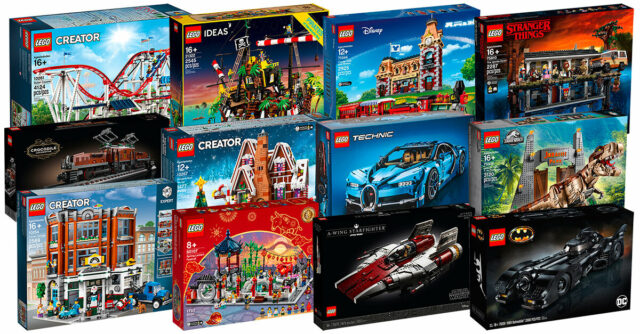 Comme d'habitude, ces listes n'ont rien d'officiel (tant que l'étiquette « bientôt retiré » n'est pas ajoutée sur le Shop) ni de définitif (LEGO peut tout à fait changer d'avis d'ici là). Mais si vous avez des achats à faire, cela peut vous aider à prioriser pour éviter de payer certains sets au prix fort ensuite sur le marché secondaire. Cela ne signifie pas non plus que ces sets seront forcément disponibles pile jusqu'au 31 décembre : certains seront en rupture définitive bien avant, et d'autres traîneront leurs derniers stocks début 2022.
Parmi les gros sets qui devraient sortir définitivement du catalogue d'ici quelques mois, on notera le Modular 10264 Corner Garage, l'excellent 21322 Pirates of Barracuda Bay, le train 10277 Crocodile Locomotive, la Batmobile 76139 1989 Batmobile, l'UCS Star Wars 75275 A-wing Starfighter, le set Stranger Things 75810 The Upside Down, le gros T-Rex 75936 Jurassic Park: T. rex Rampage et la supercar Technic 42083 Bugatti Chiron.
Sur le Shop LEGO, si une référence est « provisoirement en rupture de stock », elle devrait revenir (il y a généralement déjà une date de retour en stock dans les systèmes). Si elle affiche déjà « épuisé », il reste possible qu'elle revienne en stock en ligne, mais mieux vaut essayer de regarder ailleurs avant qu'il ne soit trop tard. Et si cela passe à « ancien produit », c'est normalement terminé pour de bon sur le Shop LEGO, même si il y a des exceptions : la gare Disney 71044 Disney Train and Station vient par exemple de repasser en « provisoirement en rupture de stock », une bonne nouvelle pour ceux qui la veulent.
LEGO Creator Expert / LEGO for Adults
LEGO Ideas
LEGO DC Comics
LEGO Marvel
LEGO Star Wars
LEGO Harry Potter
LEGO Architecture
LEGO Speed Champions
LEGO Art
LEGO BrickHeadz
LEGO Classic
LEGO Creator
LEGO Disney
LEGO Minecraft
LEGO Technic
LEGO Ninjago
LEGO Super Mario
LEGO Jurassic World
LEGO Monkie Kid
LEGO City
LEGO Friends
LEGO Dots
Sources : Stonewars & Brick Fanatics
LEGO End Of Life 2021 : la liste des sets qui sortent du catalogue en fin d'année