Après une première fuite, voici l'annonce officielle des nouveaux casques LEGO Star Wars, purs produits de collection / exposition pour AFOL (avec des boites au packaging noir un peu classe, avec un âge recommandé 18+), disponibles dès demain 18 mars en précommande sur le Shop LEGO au prix de 59,99€, avant la sortie officielle annoncée au 19 avril prochain.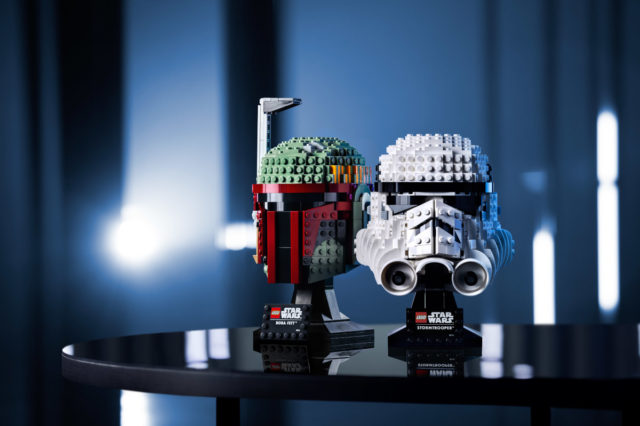 Trois références pour commencer :
Today, in a galaxy very close to home, the LEGO Group unveiled a new addition to its much-loved Star Wars™ range. Fans of the films can now show off their loyalty to the Empire – and elite-class building skills – with the new collectable LEGO® Star Wars™ Boba Fett Helmet,  LEGO® Star Wars™ Stormtrooper™ Helmet and LEGO® Star Wars™ TIE Fighter Pilot™ Helmet build-to-display models.

Designed to challenge even Jedi builders, the new models will provide an immersive building experience for adults, recreating the iconic shapes and authentic details of their favourite intergalactic helmets with the LEGO System in Play. When the building mission is complete, the models come with bespoke base plates and name plaques so they can be displayed at home, in the office…or anywhere else in the galaxy!

Inspired by epic villains from the Star Wars™ films, the new build-to-display models will be available to pre-order in from March 17th in the US and March 18th rest of world  online at LEGO.com before launching on April 19th priced at : US $59,99/€59,99:

LEGO® Star Wars™ Stormtrooper™ Buildable Model Helmet – recreate the iconic look of a Stormtrooper with this striking 18cm tall model before displaying it as a tribute to the epic Galactic Empire ground force.
LEGO® Star Wars™ Boba Fett Buildable Model Helmet – pay tribute to the legendary bounty hunter by recreating the distinctive shape of the Mandalorian helmet with this awesome, 21cm tall brick-built display model.
LEGO® Star Wars™ TIE Fighter Pilot™ Buildable Model Helmet–create the notorious contours of the TIE pilot helmet with LEGO bricks to complete this 18cm tall model and receive the glory of the Empire

These sets add to the LEGO Group's much-loved LEGO® Star Wars™ range that continues to unite fans of all ages all around the globe.
Casques LEGO Star Wars : l'annonce officielle des sets 75274 Tie Fighter Pilot, 75276 Stormtrooper et 75277 Boba Fett