Même si ils ont déjà fuité la semaine dernière, voici l'annonce officielle par LEGO des nouveautés Harry Potter 2019 (tirées des volets 3 et 4 de la saga) avec le détail des prix pour la France. Elles seront disponibles à partir du 1er juin sur le Shop LEGO et en LEGO Store.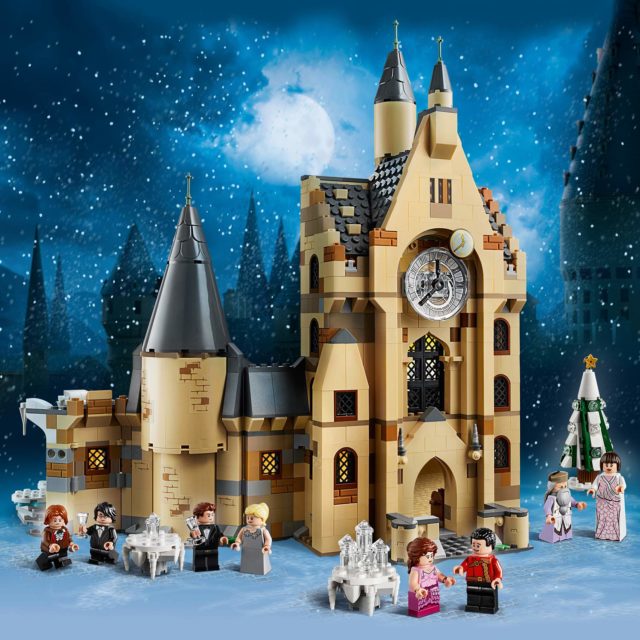 Cinq sets LEGO Harry Potter 2019 au programme :
75945 Expecto Patronum! (19.99€, 121 pièces)
75946 Hungarian Horntail Triwizard Challenge (34.99€, 265 pièces)
75957 The Knight Bus (39.99€, 403 pièces)
75947 Hagrid's Hut: Buckbeak's Rescue (64.99€, 496 pièces)
75948 Hogwarts Clock Tower (99.99€, 922 pièces)
Il y aura aussi en septembre un calendrier de l'avent LEGO 75964 Harry Potter Advent Calendar (39,99$ US) avec sept minifigs : Harry Potter (avec sa chouette), Hermione Granger, Ron Weasley, Professor McGonagall, Albus Dumbledore, Professor Flitwick et l'architecte de Poudlard (« Hogwarts Architect »).
Le détail des annonces :
The LEGO Group has today announced five brand new additions to its hugely popular LEGO Wizarding World™ range, featuring scenes from Harry Potter and the Prisoner of Azkaban and Harry Potter and the Goblet of Fire.

Available from June 1st, the new products offer builders the opportunity to recreate scenes inspired by the 3rd and 4th Harry Potter films.

Sets inspired by scenes from Harry Potter and the Prisoner of Azkaban include the iconic Knight Bus™ that transported Harry from the Dursley's home to The Leaky Cauldron, as well as an all-new stag Patronus™ element in a new set that allows fans to play and help save Sirius Black from the Dementors in the Forbidden Forest.

Beloved creature, Buckbeak the Hippogriff also makes an appearance in all-new play set of Hagrid's Hut, which opens up to offer more magical play experiences.

Sets inspired by – Harry Potter and the Goblet of Fire include the first challenge of the Triwizard Tournament, with a brick-built Hungarian Horntail dragon guarding a golden egg. LEGO minifigures in the set include Triwizard Tournament competitors Fleur Delacour, Viktor Krum and Cedric Diggory.

Additional characters from the Harry Potter films that will appear in LEGO minifigure form across the sets include Harry Potter, Ron Weasley and Hermione Granger, as well as Sirius Black, conductor of the Knight Bus Stan Shunpike and more – in addition to slightly larger Minifigures of Hogwarts groundskeeper Rubeus Hagrid and Beauxbatons headmistress Madame Maxine.
75945 – Expecto Patronum! – US $19.99 –  CA$24.99 – DE €19.99 – UK £19.99 – FR €19.99 – DK 179.95DKK – AUS $29.99 – 121 pieces
Based on scenes from Harry Potter and the Prisoner of Azkaban™
Includes Harry Potter, Sirius Black and 2x Dementor LEGO Minifigures
Includes all new Stag Patronus charm element and a tree-based shooting function for when Harry casts the Expecto Patronum spell!
Features Harry Potter™ summoning his stag Patronus for the first time to protect Sirius Black from the Dementors
75946 – Hungarian Horntail Triwizard Challenge – US $29.99 –  CA$39.99 – DE €34.99 – UK £29.99 – FR €34.99 – DK 299.95DKK – AUS $49.99 – 265 pieces
Based on scenes from Harry Potter and the Goblet of Fire™
Includes Harry Potter, Viktor Krum, Fleur Delacour and Cedric Diggory LEGO Minifigures
Join Harry Potter in his first challenge of the Triwizard Tournament as he must retrieve a golden egg from the clutches of a dangerous Hungarian Horntail dragon
Includes a buildable Hungarian Horntail dragon and Golden Egg element
75957 – The Knight Bus – US $39.99 –  CA$49.99 – DE €39.99 – UK £34.99 – FR €39.99 – DK 349.00DKK – AUS $69.99 – 403 pieces
Based on Harry Potter and the Prisoner of Azkaban™
Includes Harry Potter and all-new Stan Shunpike and Ernie Prang LEGO Minifigures
Join Harry Potter as he steps onboard the Knight Bus following his departure from the Dursley's home
Includes a three-storey Knight Bus, which opens out and includes a sliding bed
75947 – Hagrid's Hut: Buckbeak's Rescue – US $59.99 –  CA$79.99 – DE €59.99 – UK £49.99 – FR €64.99 – DK 549.00DKK – AUS $99.99  – 496 pieces
Based on scenes from Harry Potter and the Prisoner of Azkaban™
Includes Harry Potter, Ron Weasley, Hermione Granger, Minister of Magic Cornelius Fudge, the executioner and Rubeus Hagrid LEGO Minifigures
Using Harry Potter, Ron Weasley and Hermione Granger, you must rescue Buckbeak the Hippogriff from the executioner.
Includes a Buckbeak element and buildable Hagrid's Hut that opens into two, with a light brick in Hagrid's fireplace
75948 – Hogwarts™Clock Tower – US $89.99 –  CA$119.99 – DE €89.99 – UK £84.99 – FR €99.99 – DK 799.00DKK – AUS $139.99 – 922 pieces
Based on scenes from Harry Potter and the Prisoner of Azkaban & Harry Potter™ and the Goblet of Fire™
Includes Harry Potter, Ron Weasley™, Hermione Granger™, Fleur Delacour, Cedric Diggory, Viktor Krum, Albus Dumbledore™ and Madame Maxime LEGO Minifigures
An iconic section of Hogwarts™ recreated in LEGO brick form, featuring the Entrance Hall, Defence Against the Dark Arts classroom, Hospital Wing, Prefect's Bathroom, Dumbledore's Office and a section of icy decorations for the Yule Ball
This set is attachable to the LEGO Hogwarts™ Great Hall and Whomping Willow™ sets from 2018
Nouveautés LEGO Harry Potter 2019 : l'annonce officielle