La London Toy Fair 2019 vient de s'ouvrir aujourd'hui et LEGO en profite pour dévoiler un nouveau set The LEGO Movie 2 avec la référence LEGO 70839 The Rexcelsior! (1820 pièces, 139,99£) qui sortira cet été.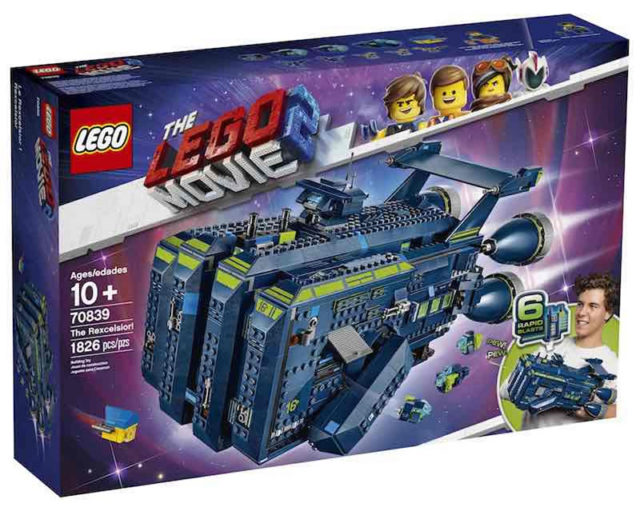 Le gros vaisseau de Rex Dangervest avec (seulement !) deux minifigs (Rex et Emmet), deux microfigs des mêmes personnages pour jouer à l'échelle du vaisseau (quelques intérieurs au format microscale visiblement) et quelques mini dinos. Et surtout, une fonctionnalité pour s'en servir de lance-missiles à ressort (Pew! Pew!). Un gros pistolet NERF made in LEGO, en bref, comme on peut le voir sur la magnifique photo qui vend du rêve dans le coin de la boite ci-dessus. Sans moi…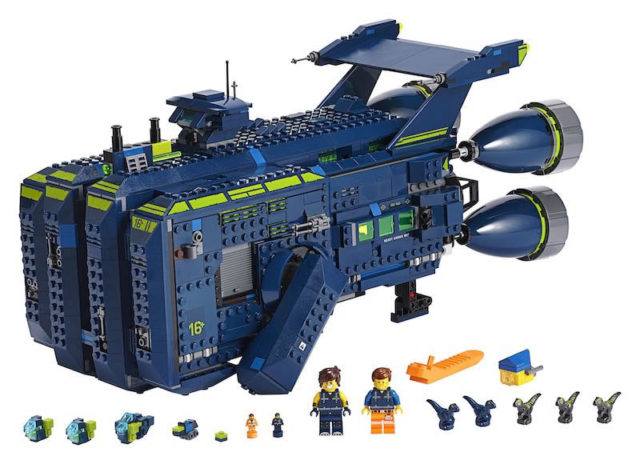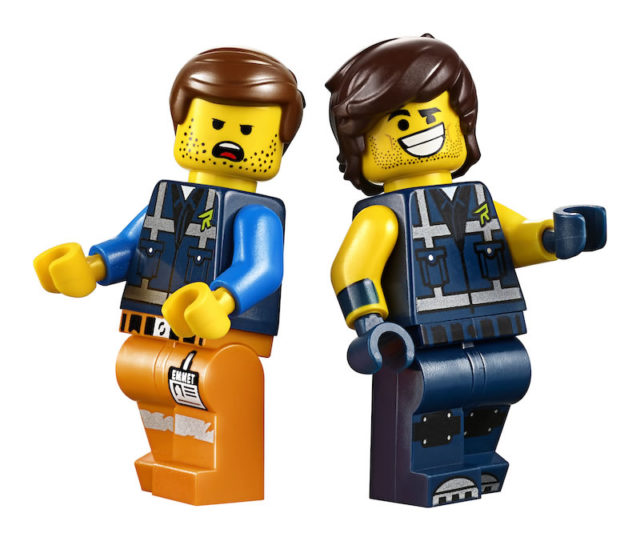 In a global exclusive reveal at this year's London Toy Fair, The LEGO Group has shown off an upcoming addition to its range of exciting products from The LEGO® MOVIE 2: THE SECOND PART™ (in UK cinemas February 8th) – in the form of new hero Rex Dangervest's ship, The Rexcelsior.

The 1,820 piece model, released in summer 2019, gives builders of all ages the chance to take control of all-action hero Dangervest's vessel, shaped like a fist and featuring a rapid-fire, 6-missile spring-loaded shooter with shooting function and a trigger in the back, allowing them to role-play space missions with Rex, Emmet and Rex's raptor crew.

Measuring over 7" (19cm) high, 15" (40cm) long and 8" (21cm) wide, The Rexcelsior features a detailed microscale interior, as well as Stubble Trouble Emmet and Rex Dangervest Minifigures, Emmet and Rex LEGO Microfigures, five micro raptor toy dinosaur figures and five micro build models including Emmet's house and a dropship.

Builders aged 10+ can make their play experience 'awesomer together' by building with a friend – whether spotting the details of the micro-scale interior (featuring its own skate park, cargo bay and command bridge) or by joining the raptors in the cockpit as they set off on more space adventures.

The set is part of a wider range of products from The LEGO® MOVIE 2: THE SECOND PART™ that will bring to life a range of exciting LEGO sets and play experiences for kids and parents, such as Emmet's Thricycle and Rex's Rex-treme Offroader. Builders can break and rebuild their structures for extra fun, and to even create their own version of The Rexcelsior!

The Rexcelsior has been revealed for the first time at London Toy Fair in a global exclusive and will officially launch in summer 2019 for a RRP of £139.99.
(via Brickfanatics)
Nouveauté The LEGO Movie 2 : LEGO 70839 The Rexcelsior!