LEGO vient de dévoiler un nouveau set LEGO Marvel Super Heroes avec l'affrontement de mecha Spider-Man Mech vs Venom Mech (réf. LEGO 76115, sortie US prévue le 1er décembre 2018) qui sera visible cette semaine au San Diego Comic Con 2018.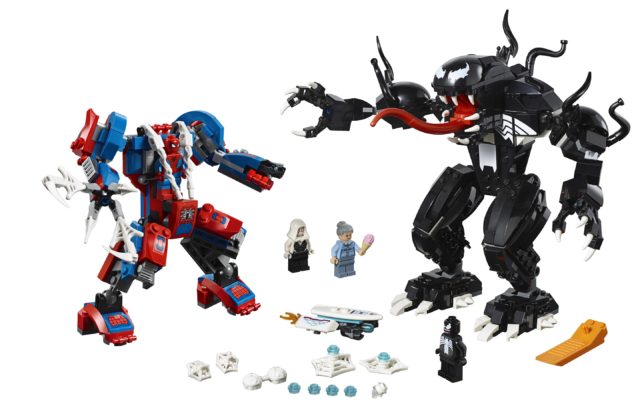 Décidément, les duels de robots géants sont tendances pour 2019 après sensiblement le même principe côté DC Comics. Le mech de Venom est quand même beaucoup plus impressionnant que celui de Poison Ivy !
Après les "explosions d'énergie" utilisées très largement cette année dans la gamme Super Heroes, vous noterez l'apparition ici d'une petite collection de nouvelles pièces dédiées à Spider-Man.
Au programme ici : 604 pièces et quatre minifigs (Spider-Man, Venom, Spider-Gwen, et Aunt May) pour un prix public US de 49,99$.
La description officielle :
LEGO 76115: Spider-Man Mech vs. Venom Mech
Launching: December 1, 2018
Piece Count: 604
Age: 8+
SRP: $49.99

Stage an awesome mech battle between Spider-Man and Venom!

KEY FUNCTIONS:

Includes 4 minifigures: Spider-Man, Ghost Spider, Venom and Aunt May.Spider-Man Mech features an opening minifigure cockpit, poseable joints, shooter to fire tech spider or web elements, and a gripping claw with attachment points for alternative web elements.
Venom Mech features a minifigure cockpit, poseable joints, a long tongue, and gripping claws to grab minifigures.
Also includes Ghost Spider's 'hoverboard' with 2 stud shooters and a translucent flame exhaust element, plus 9 assorted new-for-December-2018 web elements to customize your builds, minifigures and weapons.
Accessory elements include the Aunt May with ice cream.
The Spider-Man, Venom and Aunt May minifigures are new for December 2018.
SDCC 2018 : nouveauté LEGO Marvel 76115 Spider-Man Mech vs Venom Mech