Parce que la sortie du film The LEGO Batman Movie est un peu l'actualité du moment, et parce que vous n'habitez pas forcément à côté d'un JouéClub (cf. les offres en cours actuellement), HelloBricks et le Village JouéClub de Paris vous proposent de tenter de gagner l'un des 10 polybags LEGO 30523 The Joker Battle Training mis en jeu.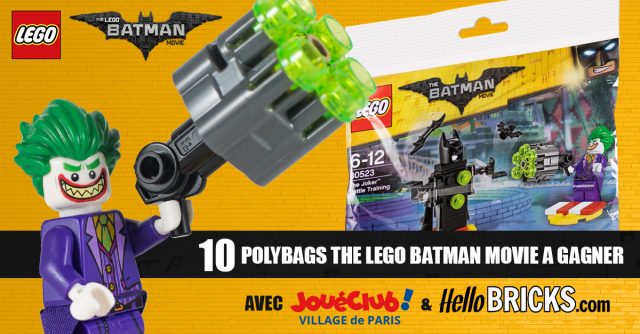 Pour participer, c'est facile : les 10 gagnants seront tirés au sort dans les commentaires de cet article, et les résultats seront affichés ici.
Le concours est ouvert aux résidents de France métropolitaine et DOM-TOM, Suisse, Belgique et Luxembourg (pas de jaloux comme ça). Date limite de participation : le 24 février 2017 à 23h59.
Bonne chance à toutes et à tous !
A noter, en parlant de JouéClub, une opération intéressante au Centre Commercial Aéroville (près de Roissy) : l'animation LEGO Unexpected Aventure (avec les animaux de la savane) a posé ses valises dans le centre jusqu'au 19 février prochain, et le Village JouéClub d'Aéroville offre sur cette période (du 4 au 19 février 2017) une remise immédiate de 10€ dès 40€ d'achat en produits LEGO. L'offre est réservée aux porteurs de la carte de fidélité Aéroville (gratuite, souscription instantanée à l'accueil du centre).
*****
Résultats du tirage au sort
Plus de 200 participants ! Les 10 gagnants tirés au sort dans les commentaires de l'article sont :
Barbara
Mortimer
French Doctor
Tristan
Jojo59
Tesa
Vanjey
superlegofan44
Athanor-paris
coraline r
Félicitations à eux ! Je les contacte par mail dans la foulée pour obtenir leurs coordonnées. Merci encore à tous pour votre participation dans la bonne humeur ! 🙂
*****
Retrouvez les nouveautés 2017 The LEGO Batman Movie sur le Shop@Home et sur Amazon.


Retrouvez toutes nos reviews The LEGO Batman Movie :
Concours : 10 polybags The LEGO Batman Movie à gagner