A peine la précédente Death Star (LEGO Star Wars 10188) officiellement arrêtée après presque 8 ans de bons et loyaux services, la rumeur d'une nouvelle Death Star UCS (Ultimate Collector Series) a ressurgi et n'a pas tardé à se concrétiser avec le référencement du set chez Brickset sous la référence 75159, pour une sortie annoncée en 2016.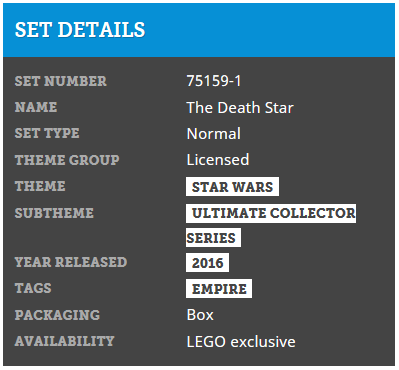 La grande question est maintenant de savoir, si cela se confirme, à quoi ressemblera ce nouveau set Ultimate Collector Series :
Un copier-coller actualisé du précédent modèle, avec une multitude de scénettes et de minifigs ?
Une maquette extérieure impressionnante de la Death Star de la trilogie originale ?
Ou bien est-ce aussi le nom de la nouvelle étoile aperçue sur l'affiche du nouveau Star Wars: The Force Awakens ?
Je pencherais bien vers la dernière option pour éviter une réédition inutile, mais je ne sais pas encore si cela ne serait pas prématuré : comparé au set 10188, y aura-t-il suffisamment de matière dans le seul film Star Wars: The Force Awakens pour justifier un set de cette taille ? Réponse dans une semaine pour connaître sa place exacte dans l'histoire…
Et quant à ce nouveau set 75159, je vous tiendrai informés dès que j'obtiens davantage d'informations : affaire à suivre !
LEGO Star Wars : une nouvelle Death Star UCS (75159) en 2016 !