FamilyGamerTV a mis en ligne une nouvelle vidéo de présentation du jeu LEGO Dimensions, mettant en avant principalement cette fois-ci Scooby-Doo et Sammy (et le Team Pack LEGO Dimensions Scooby-Doo 71206) au format du dessin animé d'origine :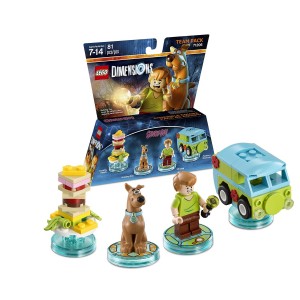 For Scooby-Doo fans that want to customize their LEGO Dimensions experience, it was also announced that a Scooby-Doo Team Pack which includes LEGO Scooby-Doo and LEGO Shaggy minifigures, plus a LEGO Mystery Machine and LEGO Scooby Snack, will be available at the launch of the Starter Pack.

Scooby-Doo and Shaggy each have their own abilities and the Mystery Machine and Scooby Snack can be physically built and then rebuilt twice for a total of three different objects that do entirely different things in the digital game for massive variety. Either character can also unlock the Scooby-Doo Adventure World, an open-world environment which provides additional open world gameplay content separate from the game's main story which allows players to explore iconic Scooby-Doo locations, race, solve puzzles, and more.
Nouveau trailer LEGO Dimensions Scooby-Doo Team Pack (71206)