La Toy Fair de New York vient de se terminer avec comme chaque année l'attribution de quelques prix dont celui du Jouet de l'année.

Et si LEGO n'a pas remporté ce titre de jouet de l'année, le set LEGO Star Wars 75105 Millennium Falcon a quand même remporté le titre de jouet pour garçons de l'année ! (Boy Toy of the Year)
Cela me fait repenser aux récents débats en France sur le sujet "il n'y a pas de jouets pour filles ou de jouets pour garçons, il n'y a que des jouets pour les enfants" : ce type de prix ne s'embarrasse visiblement pas avec ce type de polémique !
LEGO avait remporté l'an dernier le titre de Jouet connecté de l'année avec LEGO® FUSION, et la gamme LEGO Friends avait été élue Jouet de l'année et Jouet de l'année pour filles en 2013.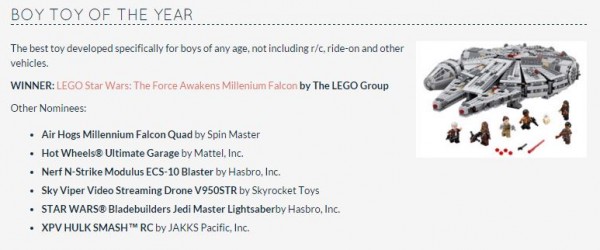 Le Jouet de l'année 2016 (pour les garçons) est le 75105 Millennium Falcon